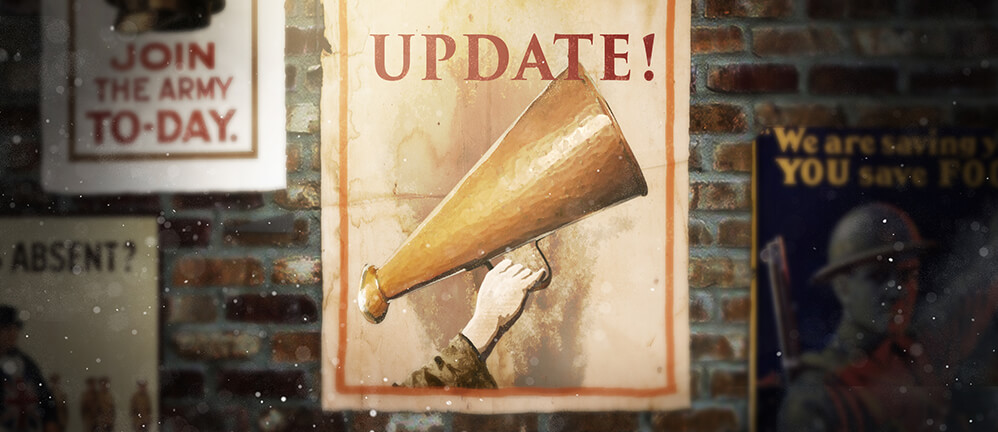 Attention Generals!
Today's release brings several updates to Supremacy 1: The Great War. We redesigned the country chooser, added a new army stack positioning system and fixed several bugs.
The new army stack positioning system displays the images of units closer to their actual position, unless a bigger number of different units are positioned in a close area at the same time. In these cases the system displays the units slightly more separated from each to significantly improve the map overview and make it easier to distinguish between different troops.
See the list below for a complete overview of what we are releasing today.
General:
We implemented a new army positioning system to improve overview on the map.
We implemented sound in Supremacy 1: The Great War.
We re-designed the way player's choose their country in game to improve the overall game experience in game rounds.
When joining a team map player's now only choose the team they want to join, not the country.
The AI is now more active when taking over a country from a player who went inactive.
MG Infantry units are now available from day 1 instead of day 3

MG Infantry units have 6 levels now.
We adjusted the progression of stats of MG Infantry units to fit to the new 6 level layout.
We changed the armor class of MG Infantry from unarmored to heavy armor.

We reduced research money cost for level 1 and 2 of units that are available from day 1
We reduced upkeep costs for units available from day 1
Bug fixes:
We fixed an issue that caused sea transports, airplanes or airplane convoys to have negative health and as a result being indestructible sometimes.
In the past, increasing province morale didn't instantly shorten the remaining conscript recruitment time but was only applied to the next recruit in line. This has been fixed: recruitment times are now instantly recalculated.
We fixed an issue that occasionally caused the redirect to the payment provider to fail in the shop.
We resolved an issue that caused newspaper editors to refuse to show respect for new heads of state when writing about them. Instead of addressing the new rulers as "null" the heads of state are addressed with their correct names when taking office.
We hope you like these changes and wish you best of luck on the battlefield.
Your Bytro Team