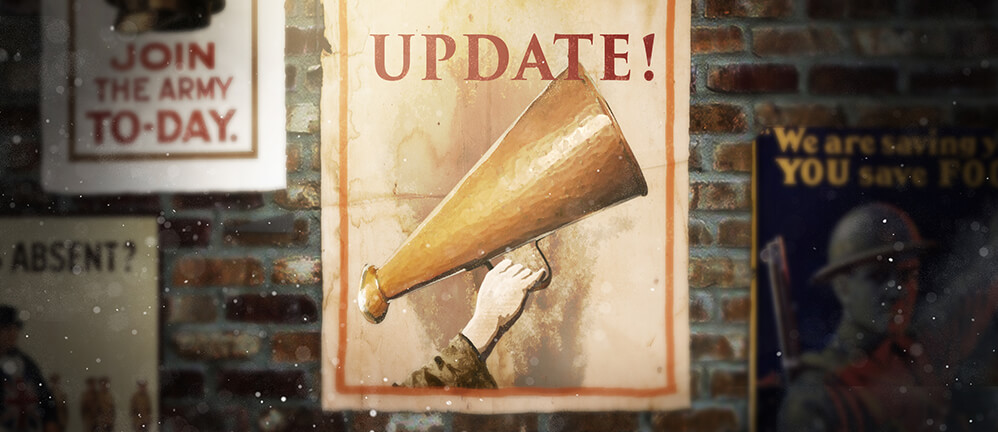 Attention, generals!
Today's release brings some great new features and updates to Supremacy 1914!
Supremacy 1914 is a unique game of deep strategy. In order to present new players with a smooth learning curve we have worked on a better way to explain the features, menus and information available in the game. The result is the brand-new contextual tutorial! It provides short hints explaining the different menus and UI elements and helps players find and process all information available in the game. (The hints will appear only once, but you can reset or disable them in the account settings.).
We also reworked the game chat. When in a game round, you can now freely move and resize it. We also added the scenario chat to allow you to communicate with only the players on the map you are currently playing. You can also set the chat to "overlay mode" to make it easier to interact with the map, but not miss any message.
Find a list of all updates and bug fixes of today's release below.
New feature:
We reworked the in-game chat.

In game rounds on desktop, the chat window can now be freely resized and repositioned to improve visuals and usability.
Scenario chat was added on mobile and desktop to improve communication within a game round.
Use 'inactive mode' on desktop to make the chat half-transparent and interact with the map while not losing track of new messages.

We added contextual tutorial hints to the game on desktop.

When opening views and menus for the first time, short hints explain basic functionalities and displayed information.
The contextual tutorial can be paused and reset in the account settings.
Bug fixes:
We fixed a bug that caused some members of the High Command to get an incorrect error message when trying to create a new game.
We resolved an issue that caused the attack vector of ranged units to only be displayed when hovering over it with the mouse. Attack vectors of ranged units are now always displayed and are highlighted when you hover over them with the mouse.
We resolved an issue that caused music and sound to be automatically switched on again, when switching browser tabs.
We fixed an issue that caused the relation view options to be turned off when the morale view was turned on and off.
We hope you like the new features for Supremacy 1914 and wish you best of luck on the battlefield!
Your Bytro Team