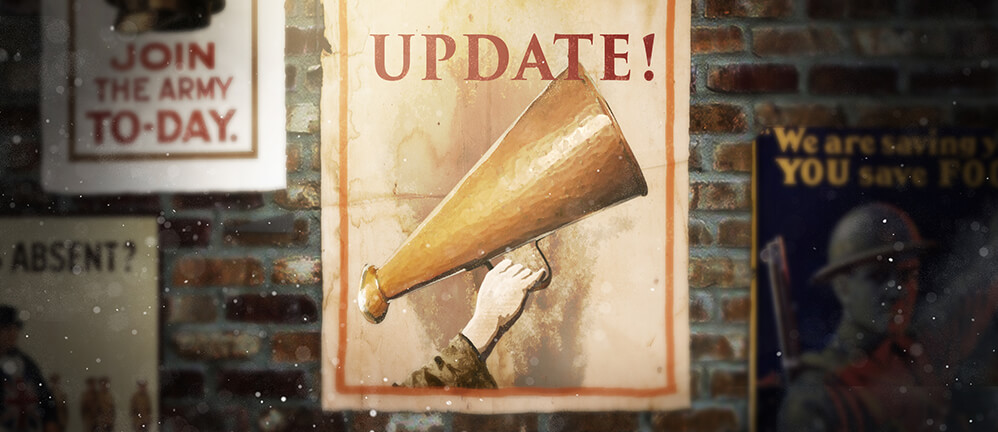 Attention, Generals!
Today's release brings some handy new features to Supremacy 1: The Great War. We implemented a brand new map filter interface and added some more great filter options as well. The new filters make it easier to check the map for units of a specific type or even for those busy with a particular activity!
We also fixed several bugs in the game and made changes to improve server stability.
Please find a complete list of all changes and updates below:
New feature:
We implemented a new map filter interface in the game.


The new map filter interface can be opened by clicking on the 'hamburger' button at the top right of your screen.

We implemented new map filters in the game.


The new map filters give you access to additional important information, which are not relevant at all times of a game round such as:
Search function
Zooming in and out
Toggling army labels of the different unit types
Activating and deactivating visuals for activities of units (e.g. attacking, moving, embarking).

We implemented a chat feature that allows you to invite a friend directly to a new game round.


When clicking on the name of a player above a chat message you will find the option to invite this player to your game.
The invited player will receive a whisper message from you including a link that they can click to join the game round.

We implemented chat notifications that announce when a new player joins a game round.
Players are now able to delete their own messages in chat within a 10 minute timeframe after posting a message.

When a player deletes a message in chat, the message is replaced with a notification that the message has been removed by the user.
General:
We made several changes to improve server performance.
Chat tabs are now highlighted with more distinguishable icons to mark new messages.
Double resource icons in provinces on the map and in the user interface are now only displayed for provinces that produce significantly more resources than other provinces.
Bug fixes:
We resolved an issue that displayed a confirmation pop up without text when ordering a non-damage dealing unit to attack. The pop up now informs the player that his action will not deal any damage to the enemy.
We fixed a bug that prevented the Cease Fire icon from being displayed in trade messages.
We resolved an issue that could occasionally cause the army bar overlapping the province bar.
We fixed an issue that caused morale penalties to be applied incorrectly when units were killed.
We resolved an issue that could display incorrect travel times for a unit if it was ordered to a location as part of a group of armies. The correct travel times are now displayed.
We fixed a bug that caused speed information of a unit to overlap with the user interface and to be inconsistent with other information regarding the unit.
We resolved an issue that caused the list of players in the game chat to be displayed incorrectly when the text exceeded one row.
We fixed a bug that could cause the settings menu to be blocked by an ad space when reducing the size of the browser window.
We removed languages that are currently not supported in Supremacy 1: The Great War from the language settings overview. We will add the languages again, as soon as the game is localized for these languages.
We hope the new map interface helps you to conquer the world and that you like all the other bug fixes and updates of this release. We wish you best of luck on the battlefield!
Your Bytro Team