forum.supremacy1914.com/index.php?attachment/894/7/12 update: added cav under units section

8/12 update: added AI section, AI versus AI sub, P versus AI subsection

18/12 started general UNIT section and subsection province_morale

19/12 expanded UNIT section; splitting up units among other.

20/12 subsection condition under section morale

29/12 artillery unitsubsection added

02/01 railgun unit subsection added

06/01 tanks unit subsection added

07/01 light cruiser unit subsections added

15/01 basics unit graph

16/01 submarine subsection added

SUPPLEMENTS
This entry will expand and intends to give players ideally the same tools to play the game with. It might hence be considered a somewhat advanced manual at some point or a mere supplement, though some of its material, concerning unit exploits especially, is probably too debatable. Whatever it may be or become I am convinced that it will be of use to some people.

SCORE (MAP)
There is nothing arcane about the score you receive in the map and it is disclosed: https://www.supremacy1914.com/…in/files/PointFormula.pdf. There are 2000 points available and distributed over the players from the start and the objective is get a certain amount of them; e.g. 1000 of these points as a solo player. The score you have displays a contrast between your provinces, the morale of those provinces, the upgrades that have been built there and all the provinces you do not have, their morale and available upgrades.The most dominant of the factors mentioned are the provinces you have and the morale each one of them has in relation to all the other provinces on the map and their particular morale. It is therefore an economic score (that can be considered to quantify military potency).
Some reservations have to made in asserting that the score does reflect economic power however:
The DE score makes no distinction between single resource provinces and double resource provinces, while the latter are economically very potent since they give double the resource output for only a single province upkeep cost; making them more than twice as valuable as single resource provinces.
There is a bonus to 99+ morale provinces, but this extra score, giving a considerable extra 27% points to a 100% morale province, reflects no real economic power and are in that sense empty points that can distort the view on how economic power is actually distributed in the map.
Most importantly: every province you have above 25% province morale is adding score (provinces below 25% are decreasing the score sic), but low morale provinces do hurt your economy, since upkeep costs are constant and output rises with morale. At least time is required to restore morale and make them profitable and economically contributory.
BASIC CONCEPTS CONCERNING AN UNIT
MORALE
Morale might very well be the most underestimated aspect of the gameplay. If you take morale systematically into consideration by taking notice where your troops will be located at daychange a habit will soon emerge that will give you a really big advantage over players that do not take this into account. Morale units (infantry and cavalry) have their health directly factored by morale (30% morale means 30% of the maximum health) and 45% of the damage these units can deal is factored by morale as well (see graph basic unit compostion). Hence, morale makes armies and terrain makes morale at day change.
Note that the display for morale is a rounded value. Morale actually works with tenth of percentages; e.g. 45.6% can be displayed as 46%. The most important mechanism concerns cav and inf at daychange on your own terrain:
armymorale_new=armymorale_old + (provincemorale - armymorale_old)*0.25
This implies that the greater the difference between your army (inf and cav only) and your province morale, the greater the rise or drop in morale is and it implies that it is extremely bad practise to keep a main army in a recently conquered 25% morale province. This is something that always has to be prevented, but can be easily done so, by for example resorting to different types of terrain (like enemy terrain of ally terrain) or another province of yourself with better morale.
Different types of terrain namely have different morale mechanisms. If your army is not on your own terrain it will move itself, in accordance with the terrain type, in one of two possible paces to 50% morale. This indeed means that infantry that has less than 50% morale will actually rise to 50% when it is not on your own territory, including enemy terrain. The further away army morale is from 50% the greater the change in morale will be towards 50%.

The formulas are helpful in understanding how a certain terrain type affects your morale. For units at sea, neutral land (peace_relation) and enemy terrain the formula is close to (might be factored 1/7.5 rather 0.133):
armymoralenew = armymorale_old + (50 - armymorale_old)*0,125
Ally territory (right of passage and shared map) behave in the same manner but move even slower to 50%:
armymoralenew = armymorale_old + (50 - armymorale_old)*0,10
CONDITION

Tech has condition and not morale, but condition functions in the same way as morale does with the important exception that it is not effected by terrain at day change and can only regain itself. It possibly does not restore condition when it is in combat at daychange and when it is it does, it restores universally in a manner like this:
conditionnew += (100-conditionold)*0.2
The formula probably does not completely fit as it hardly has been tested, but there will be more repair if the condition is further removed from 100%; which is all the information you really require. If somebody knows better please let me know though.

PROVINCE MORAL

Armymorale is made by provinicemorale (and/or relationship towards the owner), but what makes up provincemorale? These days all morale factors of a province are neatly displayed and it is also indicated if morale will rise of fall. The morale of provinces itself is regulated by the following mechanism:

provincemoral_new = (100-∑ moralefactors -old_provincemorale)*0.25 + provincemoral_old
One of these morale factors interestingly is the presence of enemy units in the province: up to a certain quantity enemy forces are proportionally contributing to a negative province morale factor. Since, as has been specified, morale does not drop very hard on enemy soil, being at day change in an enemy province, lowering its maximum morale, is actually one of the best places to be. People that want to play optimal have their scouts on enemy soil at day change as an implication.

UNITS
Concerning the manner in which damage is dealt there are 3 types of units: close combat units (infantry, cavalry, cars, tanks, balloons, subs), ranged units (art, rail gun, light cruiser, battleships) and planes, a hybrid one, doing close combat damage in a ranged manner. All damage that is dealt by a unit is factored by its size, meaning that the damage that is dealt by a quantity of units of the same type together does not proportionally add up. Ranged units and planes though actually do add up proportionally (50 art does double the damage of 25 damage e.g.) but they do so up to and including size 50: any art added to a group of 50 art is adding 0 damage and is therefore size factored by 0. The graph concerning units that have their damage proportionally add up is not very insightful, but is convenient to refer to later:

More detailed knowledge of size factors is required for the close combat units excluding the submarine and balloon. It should be noted though that the ranged units do apply the same damage as they do in close combat with the exception of grounded air planes. The size factors have been made public for a long time now and can be found under articles. It is especially useful to display these size factors of close combat units in a graph to discuss some implications.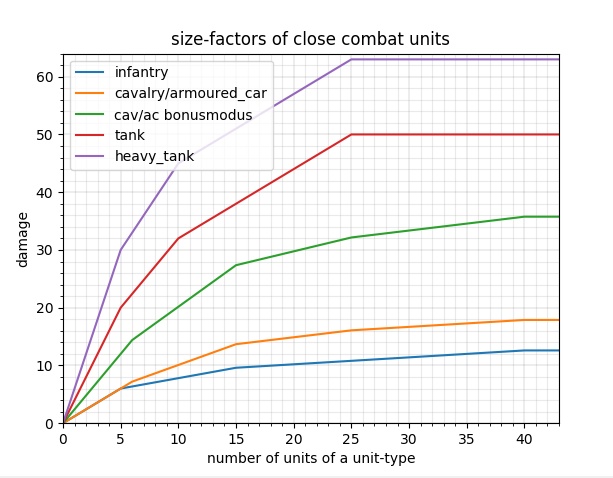 splitting up units
Concerning the last graph it should be apparent that the most important unit is naturally...infantry. When you go into combat namely you do not only consider damage, but also health points on which this damage can be inflicted. Moreover, due to sheer quantity, besides adding protective health points around valuable tech, known as meat, the infantry itself is adding a lot of damage by sheer quantity. A lot of people do not exploit this vast quantity though: if you have a group of 80 inf you can deal double damage simply by splitting these up into two forces of 40 instead, since infantry above 40 is not adding any damage. If you repeat the process and divide the group in 4 units of size 20 the graph indicates that they do a damage of 40 combined versus the circa 25 damage the two groups dealt previously. Naturally this also applies to the other units, but increasing damage in this manner is less common: you need e.g. either more than 5 or 6 units to halve to increase the damage of respectively tanks and cav/ac.
If you consider splitting up your forces to increase damage you should also consider its health points though: if you make your groups to small their destruction can cause the morale of the enemy main force to rise during the battle. Whatever you may accomplice however, the total duration of the combat will always be shorter simply due to the doubling of fighting rounds: do not split up your forces if you want to save time, do split them up if you want to win time. Splitting up forces thus enables you to either win time or battles or both. In order to split up your unit into two effective fighting component lastly, it required to give both a different destination: if you split up your force and give them both the same destination of e.g. the enemy city, both will fuse into and battle as one unit when they arrive at the target.
An extreme application of splitting up your forces in order to win time, is to down a fortification, by splitting up assaulting infantry into a lot of small infantry units (below size 6 preferably 1). This application is actually very limited, since the morale of the garrison will rise due to the destruction of all the small inf units and naturally casualties are considerable. It also requires a lot of tedious management to split them up into many units of size 1 and fortunately there are and you should pursue other means to down a fortification.
UNIT EXPLOITS
Some legitimate unit exploits are exposed here.
Armoured Car
What probably is widely known (and highly important) is that the AC is a unit that is early available and that it has great defensive capabilities in cities: its modest damage (1.2) can tipple the odds in early regular close combat encounters when not a lot of other tech is around, but it deals double damage (2.4!) when defending a city.
Probably less known are the reconnaissance capabilities of the AC and in connection with this the ability to sabotage by taking enemy provinces by surprise most importantly manipulating the movement speed of armies. Namely, besides great defensive capabilities the AC is very fast: 72 and hence in forced movement/march 108! This means that on enemy territory an AC in forced march goes slightly faster (37.8) than an infantry unit on its own soil (36). A lot of people do not realize how fast an AC can be and if they do not and leave their cities without garrisons the AC can be very destructive. I do however not consider the sabotaging of provinces as such to be the greatest exploit, but if this is done to manipulate the movement speed of your armies and that of the enemy. I have won a few hard fought maps by having e.g. an isolated AC take a province in forced march so that my army was able to catch up with and destroy a retreating enemy main army.
This brings me to make a more general statement: be prepared to trade off condition (or morale) for speed with a forced march, because this opens a window of opportunity.
The disadvantage of the AC is its cost; it is a rather expensive unit. The production of AC goes at the expense of the development of other tech and infrastructure to build that tech, but I always prefer to have some around, also late game, for the reasons mentioned above. It should however be noted that the AC does not require much of the perhaps most important resource; i.e. time.
Cavalry
The introduction of cavalry has much changed the game since its introduction, though it might generally be an undervalued unit, it allows for playing games at a much higher pace.
Cavalry is distinctive in the type of resources (food) it requires, having morale like infantry and the low production requirements: a garage, barracks and a short building time. This makes the cavalry an important early game asset that can determine the outcome of close combat encounters, dealing an amazing double damage in attacking the garrison (not the buildings) of a city. Its morale and more modest speed in comparison to the AC are disadvantages, but in a early stage of the game the cavalry can be considered more affordable, since its resources do not directly go at the expense of the development of infrastructure for future technology (in solo games). Mirroring each other in dealing double damage (a cav-unit however has to be at 100% morale to deal 1.2 damage) by either defending (AC) and attacking a city, the game is allowed much more speed by having available in a very early stage of the game, when fortifications are not maxed out, the combined power of two types of units with a high sizefactor up to 6. As a result most teambattles can be concluded these days before any artillery has been build.
Concerning solo battles those that do not deploy and utilize cavalry early game are likely to unnecessary drop behind people whom do so. The importance of cavalry does however decrease as the game progresses. Cavalry naturally keeps dealing valuable damage throughout the game, but its importance will decrease as the game progresses and other close combat technology will become paramount. One is tempted to deny this and state that, since contrary to tech, food is required as a resource, they can remain just as relevant: cav keeps adding valuable damage throughout the game, not claiming any iron, wood and oil, needed for the construction of more powerful units. The norm however seems to be that food prices will soon rise (partly because cav is being produced) and with that the cost of a cavalry unit does as well, making the consumption of food for unit generation going at the expense of maintaining your army, stockpiling food or directly selling it in order to invest in infrastructure for/or other tech.
Artillery

Artillery was the most important tech unit before most other units where only available in special gold rounds. If you look at the graphs concerning damage that can be dealt by artillery compared to the graph for close combat units and consider that damage will not be necessarily returned by the enemy it might not be surprising that artillery still is the most important techunit. Artillery is also not an expensive unit and quickly to build compared to other technology: if the oil price does get high it might actually get cheaper relative to other technologies that require more oil. Even if you are in the unfortunate position to have your art in close combat it should perform greatly: adding 1.5 damage per art proportionally, implying that 33 art is almost doing as much damage in close combat as 25 tanks. So why would you use close combat units at all? Well, a tank for example has 7(00) health points compared to 1(00) for an art, making art more suitable for ranged combat, but this does not entail that units like the tank are required in the manner like artillery is, since close combat is simply not as required as ranged combat is.
The only real downside compared to other land units is its speed. Moving around a third slower than other land units is considerable, but on the small 10 or even 31 player map not minimizing your casualties is mostly not an option and sensible players avoided notable close combat. Fortunately the introduction of larger maps (and cavalry) has led to some more diversity, since with the scaling up of size the pace or speed of expansion can become more important than minimizing your casualties to killed ratio. Moving around solely with artillery and especially waiting until everything is its way is completely destroyed by it is simply taking too much time. If you play with artillery only and focus solely on minimizing losses as you would previously do in a 10 player map, especially in teammodus, you will most likely lose the game simply by not have expanded quickly enough compared to players who were more willing to sacrifice troops for speed. Hence the importance of artillery has decreased a little.
railgun

What about that other ranged landunit, the railgun? It has a great range, which is great since that compensates for being greatly immobile: it moves very slowly and when you really require it to move, spies or combat will prevent you from doing this, by easily destroying vulnerable railroad. Besides being practically unmovable it is a very expensive unit that takes a long time to build. Considering its inert nature the railgun is a defensive weapon and as such theoretically can enable you to move other troops somewhere for an offensive to win the game, but it is best to think of the railgun as something that at best will enable you to hold ground somewhere and not as proper investment to obtain victory somewhere else. Maybe the railgun only has real merit as a psychological weapon: it can deter people to attack you while actually doing modest damage. Unfortunately this psychological weapon often turns on its user by providing a false sense of security, rather than providing four useful and movable pieces of artillery. It has to be admitted though that the railgun can be of utility, but this is in my opinion very circumstantial. I had some useful pieces for example in narrow sea straits, that were hard to reach by enemy planes, while doing considerable damage against sea units, but in general they certainly are a poor investment.

tanks

Supremacy is not all about getting the best killed to casualty ratio, it is, certainly in larger maps, sometimes also about making proper pace at the expense of that ratio. If you need to expand quickly you need to throw in some close combat units. You most often want a close combat unit to quickly remove the remainder of an unit that has been battered by your artillery, but sometimes it might be best to win more time by throwing in your close combat units around the start of the bombardment. It can actually also be a viable option not to use combined arms at all: instead of waiting for slower artillery, getting much more casualties in exchange for destroying and taking over certain positions in a shorter time span can be sensible. Beware though that the absence of ranged units can prolong the duration of the combat significantly, if you do for example not split up your forces (see unit section) if the situation allows for that. As the game progresses you want to reinforce your close combat unit consisting of morale sensitive cavalry with some tanks. How many tanks you can make depends on the situation. In my opinion, if you play against an opponent of equal size that prioritizes artillery, you do not want to drop behind with your artillery production and tanks will remain of an auxiliary nature. That is not to say that tanks are auxiliary against active opponents, but that they are auxiliary if people with equal resources play optimally.

If you stick enough infantry on a tank, 21 might be a sufficient number, a normal tank, with its 7 health points can withstand quite some combat, since it will also restore some of that max condition at daychange. The same logic applies to the heavy tank with at least 27 infantry attached to it. A heavy tank uses 1.33 more oil, 1.4 more iron and 1.5 more money than a normal tank for production in exchange for 1.5 more damage and 1.5 health. Since blueprints are no longer required, the heavy tanks look like a better deal and they probably are, but they also require 1.5 times more of the arguably most important resource: (production)time. If you stick more than 5 tanks on a stack, considering the size factors, you should naturally add at least one tank of a different type.
light cruiser
The light cruiser is often said to be convenient only for emptying AI countries in an early stage of the game, but it is actually one of the greatest and most misunderstood units at your disposal.
Contrary to the other ships the LC is very fast (67 to 30 and 21) and it is truly multifunctional if you exploit its abilities and allow it to go in a forced march at a speed of 100 km/h sometimes. You can afford this forced march situationally, since the LC is a very cheap unit, that does not only has a short buildingtime, but due to its speed also has a short traveltime to become useful somewhere.
Because of its speed the LC can harass coastal enemy coastal provinces by making some kills and damage provinces, possibly having the enemy deploy much needed artillery (and more temporarily planes) away from the front to prevent this. I am convinced that even in a teambattle on the 10 playersmap, that is played optimally with artillery (and is somehow not concluded with cav and ac) two light cruisers can make a valuable contribution by not only making kills and doing some damage, but possibly also enabling a successful coastal landing somewhere, since most coastal provincies on that map are whitin LC range and you can not shield everything off initially with much slower moving artillery, that is likely to be required elsewhere anyway. The LC will also be instrumental in clearing important sea scouts.
The LC is not only much more useful against landunits as is often thought because of its reduced range of 40 compared to 50 for the art, but also much more powerful against naval units as is commonly assumed. An LC namely can and will destroy very expensive unprotected battleships that have a range of 75. If in the most unfavorable circumstances both the LC and the BS are and remain on the same straight line and the battleships respond directly, the BS will only have the opportunity to fire either one or two times earlier than the LC. If the BS moves away and the LC group is forced marched for an hour, the resulting distance, after the LC have also fired, can maximally be 5km (100-30-75); which is exactly the close combat range where you can use the LC as submarines, resulting in the following ranged tick of the battleships to be returned by close combat damage of the light cruisers. If the LC are not forced, the battleships, depending on the reaction time and the shape of the movement grid, can deal ranged damage for a second time before you go into close combat. If the battleships go into forced march themselves this can be exploited by moving forced around yourself half a time shorter. No matter how the battleships respond, if they are not protected and slowed down by infantry and submarine healtpoints, they will lose more resources than you will.
Going into close combat with your LC actually means that you will be using them as submarines, which you perfectly can. Concerning naval warfare two LC (doing also 4HP and 4 damage) can function together as a more expensive, but more than 3 times faster submarine that also deals ranged impact before self-impact. It will also do a better job at protecting battleships, not so much because submarines would slow down the BS speed to 21 if no infantry is attached, but since, contrary to a submarine, the LC is adding very valuable air defence power. The light cruiser thus either protects battleships and enables them to operate at all or requires the enemy to protect its battleships against it. The light cruiser is thus formidable against both land and sea units, active and not so active players and AI alike.
submarine
Considering all that has been said about using light cruisers as submarines, submarines themselves appear redundant and I will further argue that they indeed are.
For just 2k extra oil and 5k money you can make two light cruisers instead of one submarine, that deal exactly the same damage and have exactly the same health as the sea-tank known as submarine. Admittedly also half a day more production time is required, but this is compensated easily by the much shorter travel time of the light cruiser: submarines even slow down naked (=no infantry attached) battleships and are more than 3 times slower than LC. LC, by the way, also make better escorts for battleships since they add 2.5 more necessary airdefence power than submarines do. Of course a submarine, as a sea-tank, is the most suitable for close combat at sea than any other vessel, but for a some more resources you can have two LC do exactly the same besides doing a lot of things the submarine is not able to do or is doing worse, besides being supposedly invisible.
A submarine is not very invisible. Besides planes, their whereabouts are regularly revealed by spies during daychange, especially in larger maps where one can and should afford the required spies to make that a likely event. If you furthermore really want to use it as a sea-tank you have to stick infantry to it, which is equivalent to an alarming shark fin. Because the submarine is rather visible it is a rather a very expensive scout and expendable, moving around the same speed, generated sea-infantry or actual spies are a far better alternative.
You can come up with scenarios where the investment of resources into submarines is optimal, but all these scenarios are circumstantial and passive: they require a mostly rather peculiar or careless move of an opponent in a very limited area and it is not strategically sound to spend resources and await such eventualities. Every function a submarine fulfils can either be better performed by another unit or performed by a unit that is far more multifunctional and useful.
AI
AI versus AI
There is an AI exploit that might be a bit ugly, but since it must be practised by some people and since it can significantly speed up the pace of expansion, the method should be shared to equal the playing ground. The method is simple and concerns playing off two AI counties against each other: once you have right of passage with an AI, you can shoot with an arty on another AI and have the incoming enemy AI forces collide not with your arty, but by positioning either before or after the shot,with the other AI. This may also be obtained sometimes without having a right of passage with any AI. At day change the two AI will be at peace again, but a repetition of this method can result in AI significantly cleaning up each other.
P versus AI


One of the great applications of the Light Cruiser (an underestimated unit that will be discussed separately) is in luring coastal AI forces into sea. The slow AI will chase the fast LC (21 (inf at sea speed) versus 67), enabling the LC to make a loop somewhere at sea most of the time and repeat the process in the same or another coastal province. Try to avoid having to kill the into the water lured infantry, since this requires a lot of maptime and gametime/management; the infantry will disappear once the AI country disappears. Beware however: the AI will keep pursuing your LC until the AI-country is conquered.