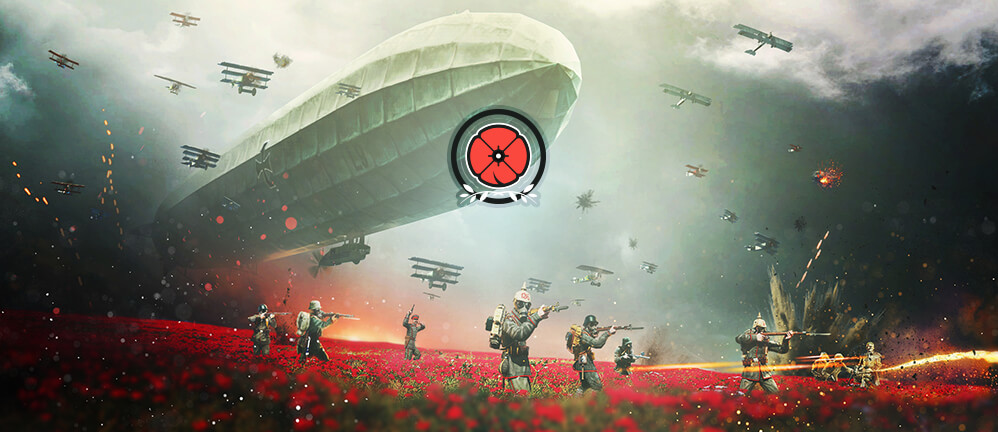 Attention, Generals!
"Flanders Front", the most revolutionary event in Supremacy 1914, is now available to all players!
Lead the Entente or the Central Powers to victory! Join a team of 10 players in the Third Battle of Ypres and defeat the enemy. Collaborate closely with the other generals, as you will need your entire team to conquer and hold the provinces with Victory Points against your 10 opponents.
Event details:
1917: Ypern Map with 20 players
2 fixed teams of 10 players each
Each member of the winning team receives 10,000 Goldmark
Hold 70% of all Victory Points on the map
Random country selection
Elite AI (but no Goldmark entry fee)
Initial relation towards the other team: war
Timeboxed at 21 days
New event-exclusive features
"Flanders Front" comes with a great number of event-exclusive features which you will not be able to experience outside this event in Supremacy 1914. Read carefully and be prepared!
Research: Specialize by researching higher unit and building levels to greatly improve their power and trump your opponents!

Armor classes: Counter your opponent's strategy by recruiting units that deal high damage against units of a certain armor class!

Terrain: Read the battlefield and take advantage of it in combat and when moving your troops!

Economy: Work with what you have, as production and demand of a product cannot be altered by using or producing another resource.

Morale: The morale of a province has a direct impact on its productivity. Moral penalties are based on number of provinces, not on being at war.

Special weapons: Take advantage of special weapons and their abilities, like the powerful gas artillery!

Epic weapons: Make your units even more powerful by unlocking their epicness at the end of the research tree!
Feedback
Your feedback is of great importance to us. We opened all possible channels for you to share your thoughts, impressions and feedback. Join us and discuss the new event on the forums. Participate in our survey that will be available throughout the event. And send us your questions for our game designers which they will answer in our AMA (Ask me anything) on June 25th in the forums.

We hope you enjoy this phenomenal new event and wish you best of luck on the battlefield!

Your Bytro Team