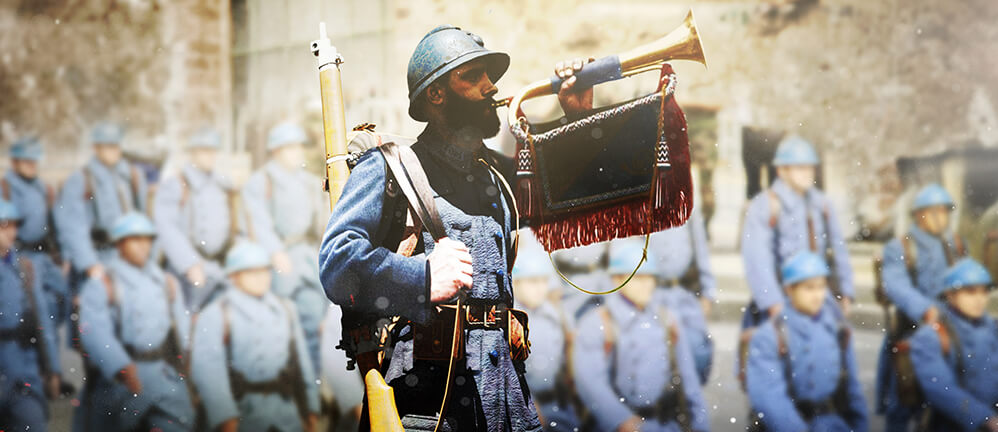 Attention Generals!
We are very excited to bring sound and music to Supremacy 1914! Yes, you read correctly!
The new Supremacy 1914 soundtrack will immerse you more in the game than ever before! You are finally able to hear the action on the map and listen to your troops fight for victory! The sound in Supremacy 1914 is dynamic, meaning the volume of the sounds you hear changes depending on the source's distance to your current field of view.
Be aware that sounds and music do not work in legacy mode. We highly recommend to use the normal graphics mode to get the full experience. Sound and music can be toggled on or off in the account setting.
To celebrate this achievement, we released the full Supremacy 1914 soundtrack on Youtube for you to enjoy!
Besides this great milestone for Supremacy 1914 we fixed quite a few bugs in the game over the holidays. See the list below for a complete overview of what we released today.
New feature:
We implemented Sound and music in Supremacy 1914

Sound and music are not available when using legacy mode.
Sound and music can be activated and deactivated in the settings.
We increased the zoom level.

You can now zoom in closer for a better overview and more details on the map.
This does not apply when using legacy mode.

We decreased the snapping range to allow you to give more precise orders for your units.

This allows you for example to send troops close to a province center, without attacking it.
This does not apply when using legacy mode.

We implemented a floating tooltip that appears when a player uses the button to start or queue the production of a unit or building. (The tooltip confirms that construction has begun or that queuing was successful.)
We noticed that players tend to focus attacks on inactive players, which is not how we envisioned game rounds to be played. Because of this we removed player activity indicators from the game to increase tension and make game rounds less predictable.
New private resource offers now appear from time to time in the stock market.
Bug fixes:
We fixed a bug that allowed an enemy to take over a province while allied forces were standing in the province to protect it.

Allied forces stationed in the center of a province now prevent an enemy taking over the province.
There will be no battle between allied and enemy troops unless war was declared between the two. Both troops will wait in the province center without it changing owner.

We resolved an issue that caused the index of nations not being displayed in the newspaper on mobile devices.
We fixed a bug that prevented the arrival time of planes being displayed. The estimated arrival time is now displayed in the user interface next to the hit points of the unit.
We resolved an issue that prevented usage of dots and commas on mobile when entering an offer on the stock market.
We resolved an issue that prevented team images from being displayed correctly in the newspapers in certain game rounds.
We fixed a bug that could result in a completely different unit being highlighted when a player hovered over a unit to highlight it.
We hope you enjoy the new atmosphere in Supremacy 1914 and hope it inspires your troops to be victorious on the battlefield!
Your Bytro Team