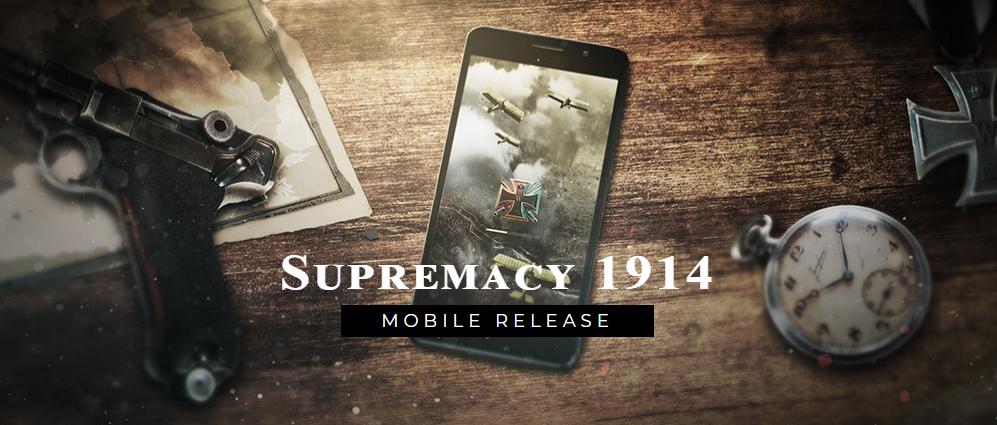 Dear generals,
Christmas comes early this year! As the next step of our Supremacy 1914 - The Great War overhaul we are happy to announce that Supremacy 1914 Mobile is celebrating its global release as a web app today. It can be played by anyone through the browser on mobile phones. Simply open your phone's browser and go to supremacy1914.com. In addition, we are releasing the game as a native Android app in this first step in the Polish Google Play store.
The app features an interface optimized for mobile touch devices and therefore exclusively supports the new map view. Mobile players will also enjoy a number of exclusive features like an in-game event log and push notifications about events like war declarations etc. If you, however, prefer to play the desktop version on your mobile device simply "switch to desktop mode" in the in-game settings.
Meanwhile, we have been listening to your feedback about the new map look and have addressed some of the most important issues in today's update. This includes the size and positioning of UI elements as well as country color saturation and more. We have also drastically decreased memory usage of the new map view to improve performance & stability across devices. (For details check the list below.)
Finally, we have fixed a large number of bugs throughout the game as well as in our speed round events. Due to the popularity of these rounds we have also introduced a new 4x speed tutorial mode as the default starting scenario for new users! This will give new players the opportunity to learn all aspects of the game in a faster and action packed game round. Experienced players are still allowed to join these maps as well - please be nice to our newest community members and help them out where you can!
We encourage you to check our Supremacy 1914 mobile app in your phones browser on supremacy1914.com and provide us with feedback. We will continue to work on missing features and improvements before releasing the app globally for iOS and Android devices early in 2019. You can already pre-register for the app on the Google Play store.
Your Supremacy 1914 team
---
List of all changes:
(1) S1914 app release for mobile browsers worldwide and in the Polish Play Store
(2) Map - Performance and usability improvements:
- Improved performance and stability of the new map rendering by drastically reducing memory usage
- Increased visibility of sea points.
- Improved visibility of unit position indicator
- Improved visibility and positioning of resource icons across zoom levels
- Adjusted city label size
- Increased size of capital flags
- Decreased size of unit flags and unit class icons
- Increased saturation of country colors
- Removed coastal wave animation for better visibility
- The attack timer icon is now also displayed for ranged units for a better combat overview
- Removed the faulty ranged attack arrow artifacts that sometimes remained when combat was already over
- Removed large direction pointer icon (when issuing unit commands)
(3) UI Fixes:
- Fixed the diplomacy menu always showing the oldest messages first.
- Fixed newspaper jumping back to top when new entries were being loaded.
- Fixed active spies not showing on the map in Espionage mode.
- Fixed the "kick member" button not being shown in the alliance member list.
- Fixed unit details showing wrong speeds.
- Fixed missing game admin functions (e.g. kick inactive) for in-game map admins.
(4) Speed map fixes:
- The combat icon timers now show the correct progression from unfilled to filled.
- The correct time values are shown for speeding up production.
- Real life dates and times are now displayed for diplomacy messages and newspaper articles instead of the sped-up ingame dates.
- The production menu now shows the correct build times after a production is started.
(5) Release of new S1914 tutorial map (with speed factor)